Summary
: Very Eternity 5-in-1 shaver PC+ stainless steel, IPX6, USB charging,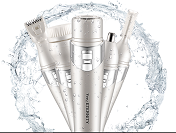 Woman, besidesfigure appearance is good, even whole body does not have dead Angle, summerwears condole belt, also wear short skirt.Beautiful clothes, and clean skin,are the source of confidence in a woman。
According to thesurvey, nearly half of the girls have become so-called "kiwi" girls,who are as hairy as men.Boys have lost interest in the so-called"kiwi" girls.This summer, own this artifact, let you depilate andtake off sheet.Five-in-one shaving machine.
Now most peoplechoose laser hair removal, chemical hair removal, waxed paper hair removal,shaving knife hair removal and so on, which have caused great damage to yourmind and body.This shaver is PC+ stainless steel, IPX6 waterproof and can bewashed directly in water after use.
This shavingmachine has five heads:Long hair trimmer,Short hair trimmer,Eyebrows trimmer,Nose hair trimmer ,Washing instrument.
This is USBcharging, only need a charging cable can be charged at any time and use at anytime, and our quality assurance, brand assurance.If you have any questions,please contact our customer service.